Introduction |
Beginnings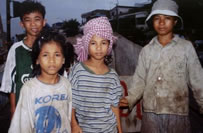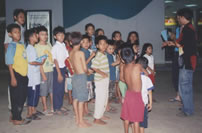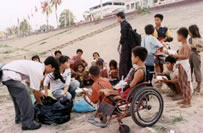 Kaleb e.V., Cambodia was created in December 2004, after a vision in prayer was received, to respond to the immense needs of the children living on the streets of Phnom Penh. Many of these children have fled from rural provincial areas, forced to leave their homes due to a number of desperate family situations.
Upon discovering their needs for education, vocational training, and reconciliation with their families, we developed different programs - the Bethlehem night shelter, the reintegration program, and the family unit - which serve only as a framework for bringing healing and restoration to the lives of homeless children and even whole families in Phnom Penh.
We also added the programs for abandonment prevention, child sponsorship, and character building to meet some more of the social needs in Cambodia.
Our Name
In the German language, Kaleb is the shortcut for "Cambodia shall live", Kambodscha soll leben.
Furthermore, "Kaleb" (Caleb in English) is also the name of an outstanding biblical character in the Old Testament who received his full inheritance from God. We strive to fulfill both meanings of the name.
Also see